Posts for: December, 2012
By Dean S. Arashiro, DDS, MS, LTD
December 29, 2012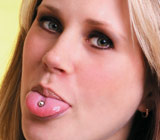 Tongue and lip piercing is a growing popular trend for some young people and adults; however, did you know that they could wreak havoc on oral health? In fact, some people soon discover that before they can even enjoy their new piercing they are faced with issues ranging from bleeding and infection to nerve damage. Tongues and lips are highly vascular — that means they have lots of blood vessels that can bleed easily and are not always easy to stop once they start bleeding. Many tongue and lip bolts can initiate problems such as tooth sensitivity, gum disease and recession, chipped teeth and more. In addition, not all tattoo parlors and tattooists are properly licensed to do piercings. Therefore, sterile techniques are not always guaranteed if they do not come under the scrutiny government agencies. Unfortunately, these potential concerns are rarely discussed prior to receiving a piercing.
So what can be done if you already have a tongue or lip piercing?
If you already have piercings, it is critical that they are closely monitored by your health professionals to make sure they are not doing damage. It is also important that you have routine dental exams to ensure that you do not have any silent problems causing issues that you haven't noticed. However, your best option is to consider removing these oral piercings. The good news is that most often the hole in your tongue or lip may heal itself; otherwise, a minor corrective surgery may be required.
A note of warning: Before you contemplate a piercing, get as much information as you can about them and the person who will do them. This includes asking about their risks, benefits and better alternatives. And then think twice to make sure they will not become permanent and negative reminders of temporary emotions!
By Dean S. Arashiro, DDS, MS, LTD
December 11, 2012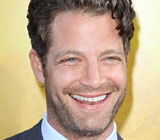 As one of America's most beloved go-to guys for inspiration on the latest interior design trends, Nate Berkus has written a highly successful book, Home Rules: Transform the Place You Live Into a Place You'll Love; he is a contributing editor to O Magazine; and he is currently hosting his own television program, The Nate Berkus Show. He is also recognized for his eye-catching smile.
During a recent interview with Dear Doctor magazine, Berkus opened up about the facts behind his trademark smile. While his smile is all-natural — he never wore braces or had any cosmetic work done — he gives credit to his childhood dentist for the preventative healthcare he received as a young boy. "I'm grateful for having been given fluoride treatments and sealants as a child," he said. Nate also shared the important flossing advice he learned from his dentist that he still follows today: "Floss the ones you want to keep."
Why is flossing so important?
Flossing is crucial because it remains the most effective method for removing plaque from between teeth, where the toothbrush can't reach. It is also an important part of keeping your gums healthy so that you can avoid periodontitis (gum disease). You should floss at least once a day either before or after you brush your teeth. If you see blood after flossing, it may indicate that you have periodontitis, or it may mean that you are flossing too harshly. Remember, you need to use a delicate hand and a proper technique when brushing and flossing to avoid damaging your teeth and gums.
To learn more about flossing, including step-by-step instructions with photos, you can continue reading the Dear Doctor magazine article "Flossing — A Different Approach." Or you can contact us today to schedule an appointment so that we can conduct a thorough examination, review your brushing and flossing techniques, and discuss any questions you have as well as treatment options. As needed, we will work with you to teach you the proper brushing and flossing techniques so that you feel confident before you leave our office. And to read the entire interview with Nate Berkus, please see the Dear Doctor magazine article "Nate Berkus."