Posts for: June, 2013
By Dean S. Arashiro, DDS, MS, LTD
June 27, 2013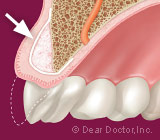 Did you ever think a dentist might suggest that you have a bone graft performed as part of a standard tooth replacement procedure? Believe it or not, it's now a routine treatment — and it's not as complicated as you may think. Welcome to 21st Century dentistry!
If you're thinking about getting a tooth implant — an attractive, strong and long-lasting option for tooth replacement — here are four things you should know about bone grafting.
A bone graft may be needed prior to placing a dental implant.
One major reason why dental implants work so well as replacements for natural teeth is that they actually become fused to the underlying bone. This system offers superior durability, and a host of other advantages. Unfortunately, when a tooth is lost, the surrounding bone often begins to disappear (resorb) as well. In that case, it may be necessary to rebuild some of the bone structure before an implant can be placed effectively.
Bone regeneration for tooth implants is a routine procedure.
When it's needed, bone grafting has become a standard practice in periodontal and oral surgery. It is often performed prior to (or, occasionally, at the same time as) placing a dental implant. The grafting procedure itself can be done in the office, using local anesthesia (numbing shots, like those used for a filling) or conscious sedation ("twilight sleep") to relieve anxiety.
The process may use a variety of high-tech materials.
The small amount of bone grafting material you need may come from a variety of sources, including human, animal or synthetic materials. Before it is used, all grafting material is processed to make it completely safe. In addition to the grafting material itself, special "guided bone regeneration" membranes and other biologically active substances may be used to promote and enhance healing.
Bone regeneration lets your body rebuild itself.
Your body uses most bone grafting materials as a scaffold or frame, over which it is able to grow its own new bone tissue. In time, the natural process of bone regeneration replaces the graft material with new bone. As we now know, maintaining sufficient bone tissue around the teeth is a crucial part of keeping up your oral health. That's why today when a tooth is going to be extracted (removed), often a bone graft will be placed at the time of extraction to preserve as much bone as possible.
Are you considering dental implants for tooth replacement, and wondering whether you may need bone grafting? Come in and talk to us! With our up-to-date training and clinical experience, we can answer your questions, and present the treatment options that are best in your individual situation.
If you would like more information about bone grafting, please contact us or schedule an appointment for a consultation. You can learn more in the Dear Doctor magazine article "Can Dentists Rebuild Bone?"
By Dean S. Arashiro, DDS, MS, LTD
June 14, 2013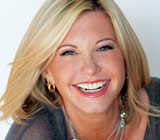 Olivia Newton-John, now in her early 60's, is still a fresh-faced picture of health — with a radiant smile to match. How does she do it? She does it with healthy habits learned from her German-born mother, Irene.
"I love greens, and as many organic vegetables as possible," Olivia recently told Dear Doctor magazine. "From spinach to salads to beets — pretty much any and all greens!"
Olivia credits her mom with instilling her lifelong love of healthy foods. Irene used dark bread rather than white bread for sandwiches and even made her own yogurt — which she used as a topping on baked fruit for dessert.
"Growing up, my mum really taught us some great eating habits," Olivia told the magazine. "When I was a girl in school, all of my friends would have cakes and cookies and fun foods but my mum was all about teaching us to eat healthy foods and to be very aware of what we were putting into our bodies. At the time I was annoyed about it, but looking back now I thank her for teaching me at an early age to eat healthily."
Irene paid particular attention to her children's oral health. "My mum always made us brush and floss after every meal so, once again, like the foods we ate, she taught us early about the importance of great dental hygiene," said Olivia, who has an older brother and sister.
As a mom herself, Olivia passed those healthy habits down to her daughter, Chloe.
"I always insisted on regular dental checkups and limited sugar, especially in soft drinks — they were never in our fridge," she said.
Parents do play an important role in developing healthy oral habits from the very beginning, starting with proper tooth-brushing techniques. By age 2, a brushing routine should be established using a smear of fluoride toothpaste. For older toddlers, parents can use a child's size soft toothbrush with water and a pea-sized amount of fluoride toothpaste. Children need help brushing until at least age 6, when they can generally take over brushing by themselves and also learn to floss.
The point of a good daily oral hygiene routine is to remove the film of bacteria that collects daily along the gum line, and in the nooks and crannies of teeth. Effective daily removal of this biofilm will do more to prevent tooth decay and promote lifelong dental health than anything else.
If you would like to learn more about preventing tooth decay or teaching your child to brush and floss correctly, please contact us or schedule an appointment for a consultation. If you would like to read Dear Doctor's entire interview with Olivia Newton-John, please see "Olivia Newton-John." Dear Doctor also has more on "How to Help Your Child Develop the Best Habits for Oral Health."