Posts for tag: orthodontics
By Dean S. Arashiro, DDS, MS, LLC
August 05, 2015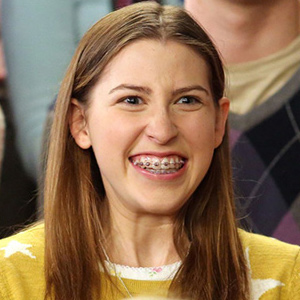 Fans of the primetime TV show The Middle were delighted to see that high school senior Sue, played by Eden Sher, finally got her braces off at the start of Season 6. But since this popular sitcom wouldn't be complete without some slapstick comedy, this happy event is not without its trials and tribulations: The episode ends with Sue's whole family diving into a dumpster in search of the teen's lost retainer. Sue finds it in the garbage and immediately pops it in her mouth. But wait — it doesn't fit, it's not even hers!
If you think this scenario is far-fetched, guess again. OK, maybe the part about Sue not washing the retainer upon reclaiming it was just a gag (literally and figuratively), but lost retainers are all too common. Unfortunately, they're also expensive to replace — so they need to be handled with care. What's the best way to do that? Retainers should be brushed daily with a soft toothbrush and liquid soap (dish soap works well), and then placed immediately back in your mouth or into the case that came with the retainer. When you are eating a meal at a restaurant, do not wrap your retainer in a napkin and leave it on the table — this is a great way to lose it! Instead, take the case with you, and keep the retainer in it while you're eating. When you get home, brush your teeth and then put the retainer back in your mouth.
If you do lose your retainer though, let us know right away. Retention is the last step of your orthodontic treatment, and it's extremely important. You've worked hard to get a beautiful smile, and no one wants to see that effort wasted. Yet if you neglect to wear your retainer as instructed, your teeth are likely to shift out of position. Why does this happen?
As you've seen firsthand, teeth aren't rigidly fixed in the jaw — they can be moved in response to light and continuous force. That's what orthodontic appliances do: apply the right amount of force in a carefully controlled manner. But there are other forces at work on your teeth that can move them in less predictable ways. For example, normal biting and chewing can, over time, cause your teeth to shift position. To get teeth to stay where they've been moved orthodontically, new bone needs to form around them and anchor them where they are. That will happen over time, but only if they are held in place with a retainer. That's why it is so important to wear yours as directed — and notify us immediately if it gets lost.
And if ever you do have to dig your retainer out of a dumpster… be sure to wash it before putting in in your mouth!
If you would like more information on retainers, please contact us or schedule an appointment for a consultation. You can learn more in the Dear Doctor magazine articles "The Importance of Orthodontic Retainers" and "Why Orthodontic Retainers?"
By Dean S. Arashiro, DDS, MS, LLC
October 24, 2014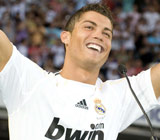 He's the world's highest-paid soccer player: a forward on the Spanish club Real Madrid, and captain of the Portuguese national team. His super-toned body is featured in a series of advertisements, and he's regularly seen with a supermodel on his arm. So would it surprise you to know that it took a bit of dental work to help Cristiano Ronaldo get a world-class smile?
You might never guess it to look at him now — but when he was 18 years old, and just starting his professional career with Manchester United in England, Ronaldo wore ceramic braces to correct a set of teeth that were quite a bit… off-sides. (As pictures from that time show, his teeth were out of alignment and had irregular spacing.) Yet in a relatively short time, his smile was completely transformed.
Ceramic braces are the treatment of choice for many sports stars and celebrities — and plenty of "regular" folks too. They work just like traditional all-metal braces, exerting a gentle force that slowly moves the teeth into better positions. But they have one major difference: They're a good deal harder to notice.
That's because instead of having brackets made of metal, this style of braces uses a high-tech ceramic material to attach the archwire to the teeth. The brackets blend right in with the natural shade of the tooth, so all you can see from a distance is the thin metal wire. That makes them a great orthodontic option for image-conscious celebs (like Tom Cruise and Faith Hill, who both wore them) — as well as anyone who may be concerned that traditional metal braces don't fit in with their "look".
In addition to ceramic braces, there are other, less-visible orthodontic treatments that can work just as well in many situations. One is lingual braces, which are similar to traditional braces — except they are applied on the tongue-side of the teeth, making them truly invisible. Another is clear aligners, a series of transparent plastic trays that are worn 22 hours a day and gradually move the teeth into more pleasing positions. What's the best way to know which system is right for you? Come in and talk to us about your options!
Besides braces, did Cristiano Ronaldo have other cosmetic dental work (like teeth whitening) done? It's possible, but he's not saying exactly. Yet, as he told a Portuguese magazine, "I feel good about myself and that's the most important thing."
If you would like more information about ceramic braces or other orthodontic treatments, please contact us or schedule an appointment for a consultation. You can learn more in the Dear Doctor articles "The Magic of Orthodontics" and "Orthodontics For The Older Adult."
By Dean S. Arashiro, DDS, MS, LLC
October 30, 2013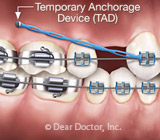 Technology for orthodontic treatments has evolved tremendously over the years. There are now more options than ever before for those seeking to straighten their teeth or fix bite issues. One of those revolutionary options is TADS (Temporary Anchorage Devices), mini-screws that can be used to more accurately control the movement and positioning of your teeth.
So, how do TADS work? Well, these very small screws are temporarily placed into the bone of the jaws to be used as non-mobile anchor units to facilitate tooth movement. They can be removed once the desired movement is complete. In addition, they can be placed using simple local anesthesia (numbing shots in the area).
The procedure is actually quite simple. After numbing the area where the TAD is to be placed, we will use gentle pressure to insert it through the gums and into the bone of your jaws. You may feel some slight pressure during the insertion, but no pain. Following the procedure, you may also feel a bit of pressure and sensitivity for one to two days, but many people experience no side effects at all. As the name suggests, TADS are temporary and usually removed after a few months, though length of time varies. Again, removing TADS also involves a quick and painless procedure.
TADS have been around for a long time, but recent refinements in the design and application procedure have allowed for more widespread use in the orthodontic office. TADS can be used for many different reasons, including eliminating the need for cumbersome appliances, such as headgear. They also offer a great way to reduce orthodontic treatment time. Finally, they allow certain cases to be treated that were nearly impossible before this technique was refined.
If you would like more information about TADs, please contact us or schedule an appointment for a consultation. You can also learn more by reading the Dear Doctor magazine article "What are TADs?"