Posts for tag: periodontal disease
By Dean S. Arashiro, DDS, MS, LLC
October 12, 2015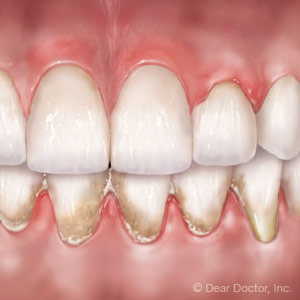 Periodontal (gum) disease, a bacterial infection caused by plaque, is one of the most prevalent and destructive dental conditions. Left untreated it can eventually lead to tooth and bone loss.
Although people are often unaware they have gum disease, there are a few warning signs to look for. Here are five gum disease signs that should prompt a dental visit.
Gum Swelling and Redness. Like all infections, gum disease triggers an immune system response that releases antibodies into the gums to attack the bacteria. The ensuing battle results in inflammation (swelling) and a darker redness to the gum tissues that don't lessen with time.
Gum Bleeding. It isn't normal for healthy gum tissue, which are quite resilient, to bleed. In a few cases, bleeding may indicate over-aggressive brushing, but more likely it means the tissues have weakened to such an extent by infection they bleed easily.
Tooth Sensitivity. If you notice a shot of pain when you eat or drink something hot or cold or when you bite down, this could mean infected gums have "drawn back" (receded) from the teeth. Gum recession exposes the tooth roots, which are more sensitive to temperature and pressure changes in the mouth.
An Abscess. As weakened gum tissues detach from the tooth, the normally thin gap between them and the tooth deepens to form a void known as a periodontal pocket. This often results in an abscess where pus collects in the pocket and causes it to appear more swollen and red than nearby tissues. An abscess needs immediate attention as bone loss is greatly accelerated compared to normal gum disease.
Tooth Looseness or Movement. As diseased gum tissue causes loss of gum and bone attachment, the affected teeth will start to feel loose or even move to a different position. This is a late and alarming sign of gum disease — without immediate intervention, you're in danger of losing the tooth.
If you encounter any of these signs, contact us for an examination as soon as possible. The sooner we can diagnose gum disease and begin treatment, the less damage it will cause — and the better your odds of regaining healthy teeth and gums.
If you would like more information on gum disease, please contact us to schedule an appointment for a consultation. You can also learn more about this topic by reading the Dear Doctor magazine article "Warning Signs of Periodontal (Gum) Disease."
By Dean S. Arashiro, DDS, MS, LTD
July 30, 2013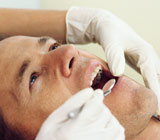 Research has shown that periodontal (gum) disease can affect the health of your whole body. Evidence suggests a relationship between severe gum disease and cardiovascular disease ("cardio" – heart; "vascular" – blood vessel), conditions that lead to heart attacks and strokes. There is also a relationship between gum disease and pregnancy; mothers with severe gum disease have a higher incidence of pre-term delivery and low birth-weight babies. To understand gum disease, you may find the following facts helpful. How many are you aware of?
Periodontal disease — Any disease that affects the areas around the teeth. The word comes from the Latin "peri" meaning around and Greek "odont" meaning tooth. Periodontal disease, or gum disease as it is commonly called, is really a group of diseases with the same outcome: destruction of the periodontal tissues, loss of supporting bone and ultimately the loss of your teeth.
Dental plaque (Biofilms) — A bacterial film that forms on teeth at the gum line, and the reason we brush and floss. Its daily removal is necessary to keep your teeth and gums healthy. A biofilm is a biological film comprised of colonies of living organisms that are generally specific to a particular eco-system. Plaque is one type of biofilm.
Gingivitis ("gingiva" – gum; "itis" – inflammation) — A response of the gum tissues to plaque biofilm that is left undisturbed (due to ineffective, or inadequate oral hygiene). It is the first stage of periodontal disease.
Pocket formation — Just like a pocket on your clothing, pocket formation is the result of separation of the gum tissues from their normally healthy tight attachment to a tooth. Pocketing allows the introduction of bacteria, which perpetuate gum disease.
Abscess — A collection of pus that forms within diseased periodontal tissues. It is experienced as pain, swelling, and discharge of pus from the gum tissues and is an advanced sign of periodontal disease.
Important Tip — Bleeding Gums when brushing teeth or flossing is not normal. It is a warning sign of early gum disease that you should bring to the attention of our office.
Contact us today to schedule an appointment to discuss your questions about periodontal disease. You can also learn more by reading the Dear Doctor magazine article "Understanding Gum (Periodontal) Disease."
By Dean S. Arashiro, DDS, MS, LTD
May 31, 2013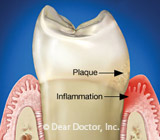 Do you frequently experience bleeding gums during your daily brushing routine? You might assume that you are brushing too hard and that this bleeding is normal. However, you should know that any bleeding of gum tissue is abnormal and should be considered a potential sign of gum disease.
Gum tissues usually bleed because of dental plaque buildup from poor oral hygiene practices. When the plaque is left around the gum line for a long period of time, 24 hours or more, the gum tissues respond by becoming inflamed — this can quickly become a chronic inflammation.
Here are some other warning signs of gum disease:
Bad Breath. Bad breath is one of the most common signs of gum disease. This is especially true for those who do not floss, because plaque collects in the protected areas between the teeth making them especially prone to gum inflammation. This plaque often produces a pungent smell that causes bad breath.
Red or Sensitive Gums. If you look closely in the mirror, you might see redness of the gums. It may also seem as if your gums are swollen, and in more advanced cases, this can lead to receding gums. Finally, you might notice gum sensitivity when you brush or a sensitivity to hot and cold.
Tooth Loss. If this disease goes untreated, over time, bone loss will cause loose teeth, movement or migration of the teeth into a new and unstable position, and ultimately tooth loss. The rate of progression will depend upon the type of gum disease that you have.
Painful Gums. Once you start to feel acute pain and extremely sore gums, this may mean you have developed a periodontal abscess. When this happens, the bacteria are walled off inside a gum "pocket," and since your body's defenses are overwhelmed, there is a battle between the bacteria in that pocket and your body's defense mechanisms. The result is a collection of pus and extra bone loss. Your gums will be sore, swollen, red and may even discharge pus.
As you can see, the further the disease progresses, the greater the amount of pain and damage that will occur. Therefore, upon the first sign of gum disease, such as bleeding gums, you should schedule an appointment with us immediately.
If you would like more information about gum disease, please contact us. You can also learn more by reading the Dear Doctor magazine article "Warning Signs of Gum Disease."