Posts for: September, 2013
By Dean S. Arashiro, DDS, MS, LLC
September 23, 2013
If you are one of the millions of Americans with missing teeth, then you're probably aware of some of the obvious side effects. You may feel self-conscious during conversations or simply avoid smiling altogether to conceal your dental issue. It is not uncommon for missing teeth to affect your confidence, but did you know that there are other problems that result from tooth loss?
For starters, if you have lost enough teeth, eating may become more difficult, in particular healthy foods, such as fruits and vegetables. This is one of the main reasons that inadequate dental care frequently results in nutritional deficiency.
Another very serious issue that results from missing teeth is bone loss. We sometimes refer to this as a "hidden consequence," because you may not actually see or feel this issue right away. Did you know that bone is actually living tissue that needs constant stimulation to maintain its form and density? Thus, when a tooth is lost, the bone in the jaw that surrounded and supported that tooth melts away. There is a 25% decrease in width of bone during the first year after tooth loss and an overall 4 millimeters decrease in height over the next few years. The longer you have missing teeth, the greater the loss of bone.
As bone loss continues, it can actually affect the structure of your face. If you lose your teeth early in adulthood, by age 45 you might start to notice sunken cheeks. By age 60, your cheeks and lips will lose their support, resulting in a collapsed and aged look. If your teeth are not replaced, this process will continue, and you will be in danger of losing much of the structural support of your lips and cheeks.
Luckily, we can use dental implants to not only restore your smile, but also to halt this bone loss. Implants look, feel and function like your natural teeth and are made of titanium, which has the unique ability to fuse with your living bone. Among the many benefits of implants, they continue to provide stimulation to your bone, preventing further bone loss.
With a success rate of more than 95%, implants are the best long-term solution for tooth replacement.
If you would like more information about implants and bone loss, please contact us or schedule an appointment for a consultation. You can also learn more by reading the Dear Doctor magazine article "The Hidden Consequences of Losing Teeth."
By Dean S. Arashiro, DDS, MS, LLC
September 13, 2013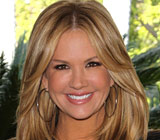 When it comes to sensitive gums during pregnancy, Nancy O'Dell, the former co-anchor of Access Hollywood and new co-anchor of Entertainment Tonight, can speak from her own experience. In an interview with Dear Doctor magazine, she described the gum sensitivity she developed when pregnant with her daughter, Ashby. She said her dentist diagnosed her with pregnancy gingivitis, a condition that occurs during pregnancy and is the result of hormonal changes that increases blood flow to the gums. And based on her own experiences, Nancy shares this advice with mothers-to-be: use a softer bristled toothbrush, a gentle flossing and brushing technique and mild salt water rinses.
Before we continue we must share one important fact: our goal here is not to scare mothers-to-be, but rather to educate them on some of the common, real-world conditions that can occur during pregnancy. This is why we urge all mothers-to-be to contact us to schedule an appointment for a thorough examination as soon as they know they are pregnant to determine if any special dental care is necessary.
Periodontal (gum) disease can impact anyone; however, during pregnancy the tiny blood vessels of the gum tissues can become dilated (widened) in response to the elevated hormone levels of which progesterone is one example. This, in turn, causes the gum tissues to become more susceptible to the effects of plaque bacteria and their toxins. The warning signs of periodontal disease and pregnancy gingivitis include: swelling, redness, bleeding and sensitivity of the gum tissues. It is quite common during the second to eighth months of pregnancy.
Early gum disease, if left untreated, can progress to destructive periodontitis, which causes inflammation and infection of the supporting structures of the teeth. This can result in the eventual loss of teeth — again, if left untreated. Furthermore, there have been a variety of studies that show a positive link between preterm delivery and the presence of gum disease. There has also been a link between an increased rate of pre-eclampsia (high blood pressure during pregnancy) and periodontal disease. Researchers feel this suggests that periodontal disease may cause stress to the blood vessels of the mother, placenta and fetus.
To learn more about this topic, continue reading the Dear Doctor magazine article "Pregnancy and Oral Health." And if you want to read the entire feature article on Nancy O'Dell, continue reading "Nancy O'Dell."