Posts for: January, 2014
By Dean S. Arashiro, DDS, MS, LLC
January 23, 2014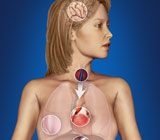 A substantial amount of research has recently pointed up the connection between oral health and systemic (whole-body) health. But recently, one study went a step further: It seems to show that having certain dental-health issues in middle age — for example, tooth loss and gum disease — could signal a deterioration in cognitive function.
Study author Gary Slade, a professor at the University of North Carolina at Chapel Hill, summed it up: "We were interested to see if people with poor dental health had relatively poorer cognitive function, which is a technical term for how well people do with memory and with managing words and numbers," he said in an interview with U.S. News and World Report. "What we found was that for every extra tooth that a person had lost or had removed, cognitive function went down a bit. The same was true [for] patients with severe gum disease."
Does this mean that losing teeth is a little like losing brain cells? Not really, because it isn't clear which condition occurred first… or even if one caused the other. For example, it could be that a poor diet is responsible for both poor dental health and a decline in cognitive ability; on the other hand, there could be a genetic link between both conditions. Or, it could simply mean that people with cognitive difficulties don't take good care of their teeth.
Still, the association is intriguing — especially because it echoes some previous studies, which indicate that systemic inflammation could be a major cause of both problems. What's the oral-systemic connection? No one is exactly sure yet, but research suggests a relationship between periodontal disease and other diseases such as heart disease, stroke and diabetes. The common link may be bacteria: The same microorganisms that cause problems in the mouth might be able to spread through the body, producing a low-grade inflammation — one that's waiting for the right conditions to burst into fire.
So, should you rush out and grab everything off the drugstore's oral health products shelf? Well, we wouldn't necessarily go that far… but here's a more sensible suggestion: Take good care of your teeth and gums. Both tooth decay and periodontal disease can cause a number of problems with your health — yet both can be treated effectively… and they're largely preventable!
If you haven't visited our office in a while, why not come in for an exam? When you do, ask us what's the best way to keep your smile looking great and feeling clean and healthy. Our goal is to help you maintain proper oral hygiene — for life. If you would like more information about oral health and systemic diseases, call our office for a consultation. You can learn more in the Dear Doctor magazine article "The Link Between Heart & Gum Diseases."
By Dean S. Arashiro, DDS, MS, LLC
January 08, 2014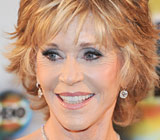 Not long ago, Jane Fonda gave a British interviewer a clue as to how she manages to look so young at her advanced age. During the 2011 Cannes Film Festival, the septuagenarian actress and fitness guru said to a journalist from the London-based Daily Mail, "See these teeth? They cost $55,000. It was teeth or a new car — and I opted for the teeth."
We think she made the right choice — though she might have overpaid just a tad. Most people don't have that kind of cash to spend on either a car or new teeth. But luckily, you can get either for a lot less — particularly the teeth!
The truth is, at a reasonable cost, cosmetic dentistry really can make you look a lot younger while giving your self-esteem a tremendous boost. It's an investment in both your emotional and oral health as we will never implement a smile makeover without first making sure we've addressed any underlying dental disease. Best of all, it doesn't have to cost anywhere near what you'd pay for the latest-model Jaguar, the price tag of Fonda's smile notwithstanding. Here is a list of the more common cosmetic dental techniques used to enhance a person's smile:
Whitening — a peroxide-based bleach is applied directly to the teeth to remove minor staining and discoloration.
Bonding — an acrylic material is applied to a tooth, colored and shaped to match the person's other teeth. Primarily used for chipped, broken or decayed teeth.
Enamel Shaping — the removal of very tiny amounts of enamel, the tooth's outer layer, for a more pleasing tooth shape.
Veneers — a thin shell of custom-designed tooth-colored material, usually porcelain, affixed to the front surface of the teeth.
Crowns and Bridgework — a technique that covers heavily damaged teeth or replaces missing teeth by capping them, or using capped teeth to support one or more false teeth.
Dental Implants — a small titanium post is surgically implanted in the jawbone to replace the root-part of a missing tooth. A lifelike crown is attached to the implant above the gum line and is the only part of the whole tooth restoration that is visible in the mouth.
Gum Contouring — a minor surgical procedure altering the position of the gum tissue to improve the look and regularity of the gum line around the teeth.
If you'd like more information on cosmetic dentistry, please contact us or schedule an appointment. To learn more, please read the Dear Doctor magazine articles, "Beautiful Smiles by Design" and "The impact of a Smile Makeover."