Posts for: April, 2015
By Dean S. Arashiro, DDS, MS, LLC
April 23, 2015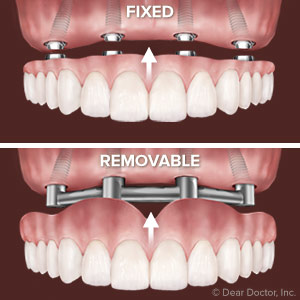 Although dental implants are best known as single tooth replacements, they can actually play a role in multiple or complete tooth loss (edentulism) restorations. While replacing multiple teeth with individual implants is quite expensive, there's another way to incorporate them in a restoration at much less cost — as supports for bridges.
In this case, only a few strategically placed implants are needed to support restorations of multiple crowns fused together into a single unit. Implant-based bridges consist of two main types: the first type is a fixed bridge, which is permanently attached to the implants and can't be removed by the patient. It's often the preferred treatment for patients who've lost most or all of their teeth but have not yet experienced significant bone loss in the jaw.
This choice, however, may not be the best option for patients with significant bone loss. In these cases, there's a second type of fixed bridge: an implant-supported fixed denture. This type of fixed denture provides support for the lost bone support of the lips and cheeks. If a fixed bridge is not possible due to finances or inadequate bone support to place 4 to 6 implants, a removable denture (also known as an overdenture) that's supported and held in place by implants is the next best alternative. Unlike a fixed bridge, an overdenture can be removed by the patient for cleaning purposes, and will require less investment than a fixed bridge.
For people with bone loss, the overdenture does more than restore chewing and speech function. Because bone loss can diminish support of the facial structures — actually shorten the distance between the chin and the tip of the nose — an overdenture provides additional bulk to support these structures to improve appearance. Depending on what the patient needs for facial support, overdentures for the upper jaw can be designed as "full palates," meaning the denture plastic completely covers the upper jaw palate, or open in which the plastic doesn't completely cover the palate.
Besides the condition of your teeth, gums and bone, your own personal preferences and financial ability will also play a role in which option is best for you. After considering all these factors, we can recommend which of these types of implant-based restorations will fit your needs. With either bridge, fixed or removable, you'll certainly benefit from the improvement to both your mouth function and your smile.
If you would like more information on implant-supported bridges, please contact us or schedule an appointment for a consultation. You can also learn more about this topic by reading the Dear Doctor magazine article "Fixed vs. Removable."
By Dean S. Arashiro, DDS, MS, LLC
April 08, 2015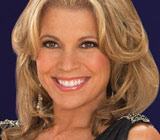 Describing Vanna White, co-host of the hit television game show Wheel of Fortune as friendly is an understatement. Yes, a good portion of the credit goes to her bubbly personality; however, you can't look at her without noticing her world-famous smile.
During an interview with Dear Doctor magazine, Vanna shared some of the secrets to her trademark smile. Secrets that she is instilling in her children.
"I floss every day and I brush my teeth at least twice a day — morning and night — and sometimes after lunch." She added, "I think that flossing is the most important thing. I believe that dental floss helps a lot, as it keeps your gums strong and looking younger." And when asked about how often she has her teeth professionally cleaned she replied, "...every four to five months because I get a lot of plaque buildup."
A typical dental hygiene visit is one that involves prophylaxis, a dental (and insurance) term for scaling and or polishing procedures to remove plaque and calculus (tartar) from the crown or portion of the tooth that you can see. Scaling is a procedure where we use special hand-held instruments and/or ultrasonic scalers to remove plaque, bacteria and tartar that can coat your teeth causing them to feel rough or fuzzy. To polish your teeth, we use a rubber polishing cup, prophy paste and a motorized instrument that removes bacterial plaque and surface stains. This is usually the last portion of a routine cleaning because it leaves your teeth feeling smooth and shiny.
However, if you have been seeing blood when you brush your teeth or while flossing, you have the telltale signs of periodontal (gum) disease. During your cleaning appointment, we will clean below the gum line to treat and manage your periodontal disease (an infection of the gum and jaw bones). We may also discover that additional, deep-cleaning treatments (such as root planing) may be needed to treat and manage your periodontal disease.
To learn more about this topic, continue reading the Dear Doctor magazine article "Teeth Polishing." Or you can contact us today to schedule an appointment so that we can conduct a thorough examination and cleaning. And if you want to read the entire feature article on Vanna White, continue reading "Vanna White."